What we are looking for
Values, skills/attributes
We're actively building a positive and inclusive culture where everyone contributes to staff safety and feels valued at work.
We value and respect workplace diversity and seek to build a workforce that is representative of the community we serve. We welcome applications from people of all ages, genders, cultural and linguistic backgrounds, religious beliefs, Aboriginal and Torres Strait Islander peoples, and people who are diverse in gender and sexuality. 
We are also looking for candidates who are committed to upholding our organisational values and behaviours, as these guide our work and shape our culture.
Our organisational values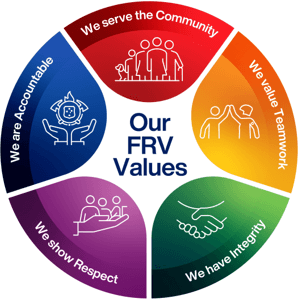 We serve the Community
We lead by example to make a difference. We are driven by work that is purposeful. We continuously improve to best serve and protect others. We are proud of the work we do to serve the community and keep people safe.
We value Teamwork
We work together in unity as one FRV team. Our dedication to our work is underpinned by team spirit, connection, safety and friendship. We depend on each other's unique skills, knowledge and qualities to keep people safe. We collaborate across all FRV as one, connecting with our crews and teams across the organisation.
We have Integrity
We act with integrity in everything we say and do. Decisions are made through open, honest and clear communication. With active listening, we build mutual trust and shared understanding. Working in a safe and transparent manner, we do what is right.
We show Respect
We are respectful, inclusive and supportive of everyone. We recognise and value the diversity of our people. We are approachable and considerate of everyone's views. We are understanding, caring and show empathy. We are committed to everyone's safety at work. We acknowledge one another's contributions and treat people fairly.
We are Accountable
We are professional and accountable. We take pride in everything we do. We are consistent, reliable and strive for excellence. With a positive attitude, we show initiative and are responsive. We maintain a high level of safety for ourselves and for others. We take ownership and deliver on our commitments.
Firefighting is a varied, rewarding and challenging job, that can be physically and psychologically demanding, and is suited to people who have the capability to:
perform complex tasks during life-threatening emergencies, including facing life or death decisions during emergency conditions and resulting in exposure to situations that may give rise to critical incident stress
respond to emergencies of uncertain and extensive duration, with little to no opportunity for breaks or meals, and sometimes while wearing positive pressure breathing and other personal protective equipment
work rotating roster of two ten-hour day shifts, followed by two fourteen-hour night shifts, then four days off
work for long periods of time, requiring sustained physical activity and intense concentration
maintain good health and physical fitness
tolerate extreme fluctuations in temperature while performing duties. Must perform physically demanding work in extremely hot and humid atmospheres while wearing equipment that significantly impairs body cooling. This will result in experiencing frequent transition from hot to cold and from humid to dry atmospheres
wear personal protective equipment that weighs approximately 25 kgs while performing tasks
perform a variety of tasks on slippery, hazardous surfaces such as on rooftops or from ladders
drive and operate heavy vehicles and use manual and power tools in the performance of duties
face exposure to physical, chemical and biological hazards that require the safe and effective use of appropriate protective equipment
operate in environments of high noise, poor visibility, limited mobility, at height

s

, and in enclosed or confined spaces
Firefighters often operate in stressful situations, particularly when people are injured or threatened with injury. When attending an incident, firefighters may be required to comfort victims or other members of the public
Responding to rescue calls throughout the State, assisting people involved in domestic, industrial and transport incidents, including road accidents
Providing basic first aid and Emergency Medical Response (EMR) as first respondent until an accredited provider, such as Ambulance Victoria, arrives on scene or alongside an accredited provider, including:
aid, unconsciousness, non-breathing, or pulseless patient
assist with ventilation through compressions and CPR
administering oxygen and defibrillation
provide blood flow to a person's brain and vital organs
setting up Spine Boards